Practice
Therapeutics
Pharmacological therapies for opioid induced constipation in adults with cancer
BMJ
2017
;
358
doi: https://doi.org/10.1136/bmj.j3313
(Published 02 August 2017)
Cite this as:

BMJ

2017;358:j3313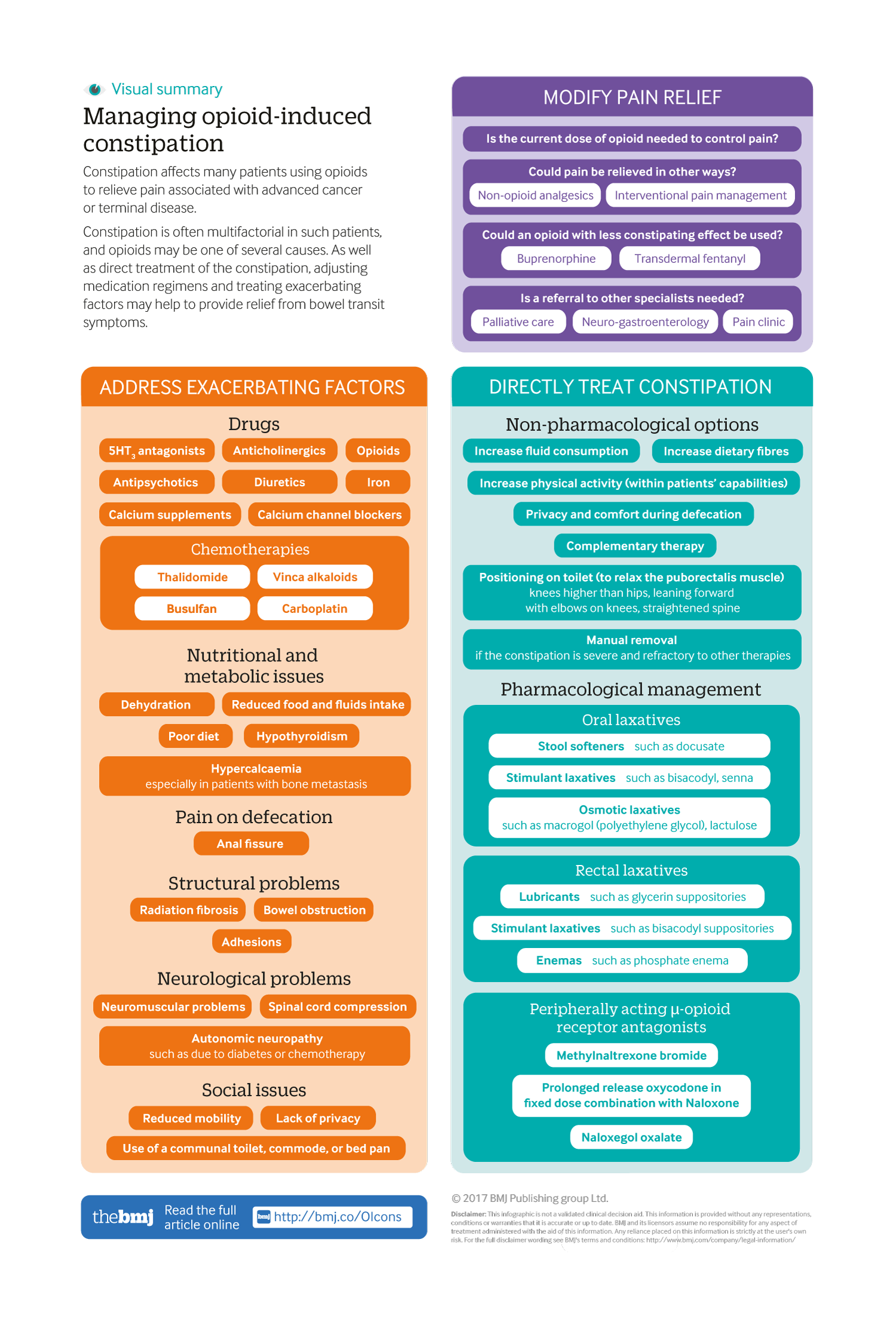 Infographic available
Click here for a visual overview of the management of opioid induced constipation
All rapid responses
Rapid responses are electronic letters to the editor. They enable our users to debate issues raised in articles published on thebmj.com. Although a selection of rapid responses will be included online and in print as readers' letters, their first appearance online means that they are published articles. If you need the url (web address) of an individual response, perhaps for citation purposes, simply click on the response headline and copy the url from the browser window. Letters are indexed in PubMed.
Nausea/vomiting, constipation, dry mouth, sedation, miosis and respiratory depression are common ADRs associated with opioid treatment.
Apart from constipation & miosis, tolerance develops to most of the ADRs during opioid therapy.
The treatment of opioid induced constipation is required in patients with and without cancer. However, in patients with cancer due to polypharmacy and other cancer specific interventions, the treatment of constipation is difficult and needs attention.
Strategies [1] and a holistic approach are required in patients with cancer.
We thank the authors for the "infographic", and it is true that authors are responsible for their paper as per policy.
Regards,
References:
1. https://www.ncbi.nlm.nih.gov/pmc/articles/PMC4418642/
Competing interests: No competing interests
05 August 2017
Dr. Rajiv Kumar
Faculty
Dr.Sangeeta Bhanwra, Faculty, Dept. of Pharmacology, Government Medical College & Hospital, Chandigarh. India.
Dept. of Pharmacology, Government Medical College & Hospital Chandigarh 160030. India.
DRrajiv.08@gmail.com
The BMJ adds to its INFOGRAPHICS, in very small print, that :
1. Information provided is without any warranties that is accurate or up to date
2. The BMJ and its licensors assume no responsibility for any aspect of treatment administered with the aid of this information
3. Any reliance placed on this information is strictly at the user's own risk
I wonder why a respected medical journal needs to do that. I have never read anything like this in the Lancet, the NEJM or JAMA (which publishes infographics quite regularly).
In the end, I have this to suggest to the BMJ and its licensors :
1. Make sure that the information you provide is accurate and up to date: it is your duty and it is expected of any serious medical journal.
2. Do assume responsibility for what you publish: it is your raison d'être and will help you to better understand your readership, who must do that every day in their encounters with patients.
3. Reflect on the implication of stating that trusting the information you provide comes at the user's own risk: you may lose a most valuable resource, the respect of your readership.
Competing interests: No competing interests
03 August 2017
Piero Baglioni
Physician
Centre Hospitalier Saint Jean d'Angely France
21, rue de la mer, 17400 Saint-Jean d'Y.